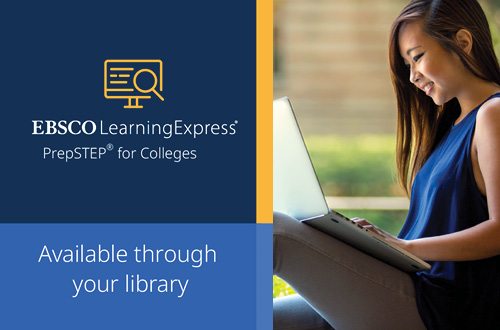 PrepSTEP is a new database that provides college success and career prep resources. It contains a collection of practice tests, tutorials, e-books, articles, and flashcards to help students achieve their college and career goals. Students no longer need to wait in line for access to print copies of our study guides for these tests.
Using PrepSTEP, students can:
Build foundational skills for college success
Improve core English, math and science skills
Study for grad school admissions exams, including DAT®, GMAT®, GRE®, LSAT®, MAT®, MCAT® and PCAT®
Prepare for professional license exams such as electricians, paramedics, plumbers, appraisers, and commercial driver's license
Score higher on ACCUPLACER® college placement tests, as well as CLEP®, DSST® and TOEFL iBT® exams
Acquire basic computer skills
Build workplace skills
ISU faculty, staff, and students can access PrepSTEP here or through the library website. Materials contained in PrepSTEP can also be found through QuickSearch on the Library homepage. For example, see these ebook and practice test records.
In addition, PrepSTEP is compatible with Canvas so instructors can embed tutorials, quizzes and e-books in their course modules.
Questions? Ask us!