Miller Open Education Mini-Grant Program returns for sixth year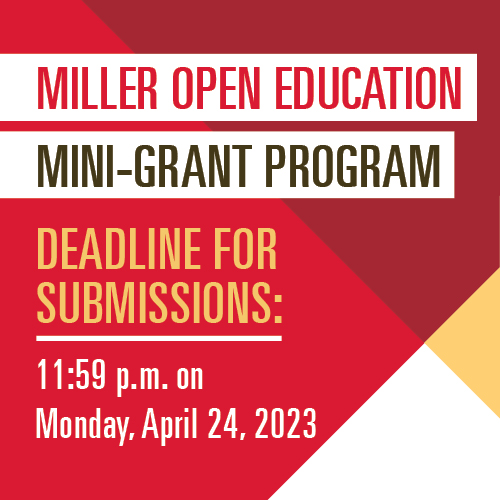 The Miller Open Education Mini-Grant Program has opened proposal submissions for its sixth round of funding! This grant program encourages instructor innovation in adopting and creating Open Educational Resources (OER), course materials that are free to access and use online.  
This year, the call for proposals closes at 11:59 pm on Monday,  April 24, 2023.  
A drop-in Q&A session will be held virtually from 12:30-2 p.m. on Tuesday, April 4, to guide potential applicants through the proposal development process. You can find examples of past projects funded by the Mini-Grant program on the ISU Open & Affordable Education Committee's website. 
Thinking about developing a larger, more complex, or collaborative project? Look out for the second CFP for the Affordable Course Materials Jump Start Initiative later this spring, which will support the development and use of free course materials across Iowa State's programs. 
The Miller Open Education Mini-Grant Program is a collaborative effort funded by the Center for Excellence in Learning and Teaching (CELT), the Iowa State University Library, and the Office of the Senior Vice President and Provost (SVPP). 
Contact: 
Abbey Elder, Open Access and scholarly communication librarian, 150 Parks Library, 515-294-5753