Live to Give
Story by Melea Reicks Licht, Image by Christopher Gannon, Image edited by Haylee Sheppard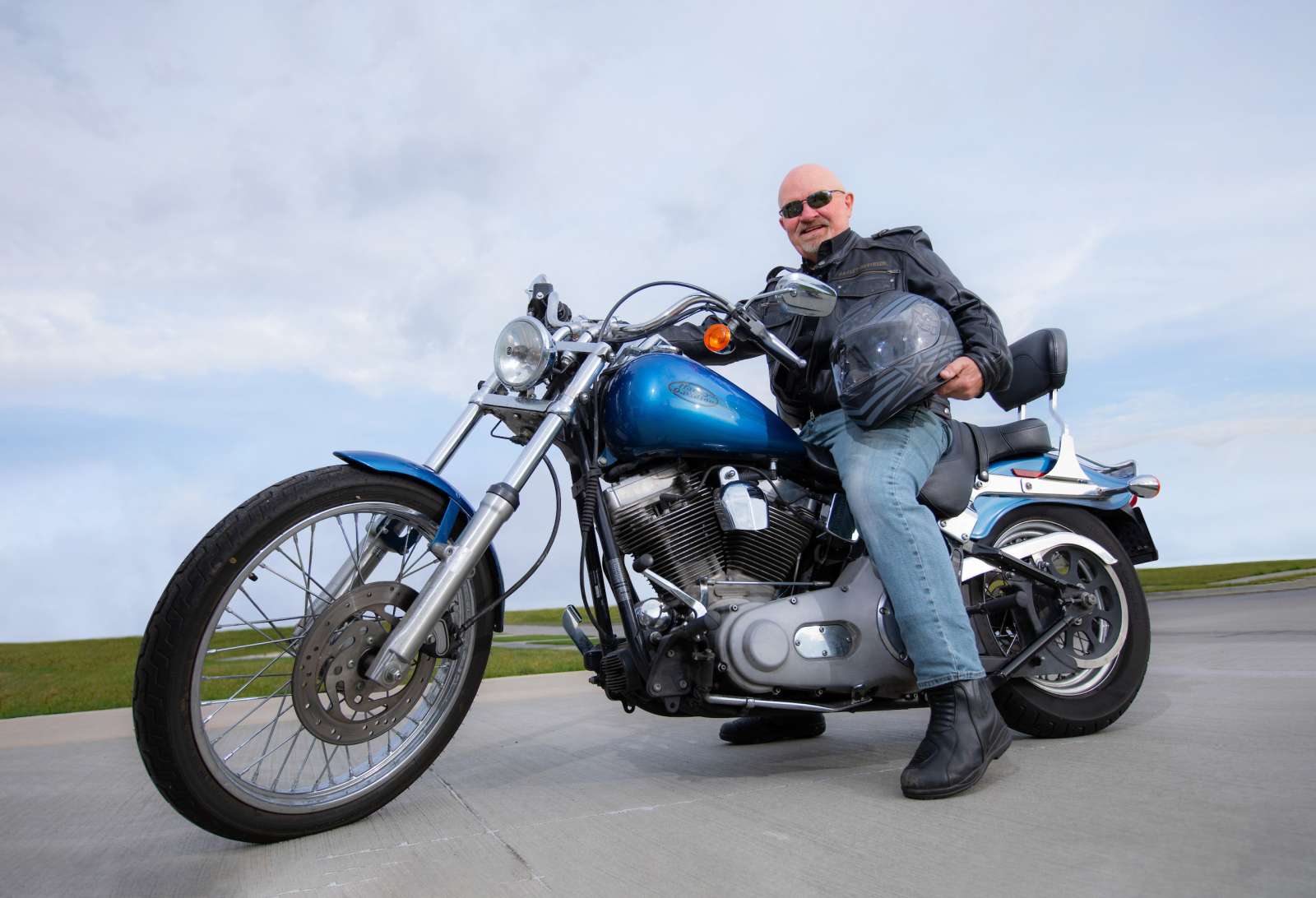 Larry Hejlik likes to joke that he didn't work at Harley-Davidson, he retired there.  
The Cyclone engineer ('72 engineering operations, master's of industrial engineering '79) says his position with the leading motorcycle manufacturing company in the U.S. met all his criteria for a dream job.  
Mentor young engineers and work with fun people? Check. Focus on design from the user's experience? Check. Work in product liability? Check. Self-directed? Check.  
"When I took the job at Harley, I planned on being there for maybe 10 years and ended up staying until I retired 18 years later. I enjoyed the people I worked with and the work itself," Hejlik said. 
Prior to his work at Harley, Hejlik worked at Iowa Mold Tooling Co. in Garner, Iowa, working his way up from a design engineer to the vice president of engineering. He also worked a stint as an instructor at Iowa State in the late 1970s while he pursued his masters. He graduated with two of his brothers on the same day in 1979 – a family accomplishment never before documented at Iowa State.  
Hejlik did a lot of teaching throughout this career. 
"I encouraged young engineers to expand their viewpoint, and to focus on how their design affects the overall machine," Hejlik said. "Once they realized their designs had to work, be manufactured cost effectively, and not detrimentally impact the rider experience, it's like a light bulb went off."  
Live to ride, ride to live 
To best understand the design of Harley-Davidson motorcycles, Hejlik was expected to ride them. All of them.  
"I had only ridden a Harley-Davidson once before I got this job and part of the requirements was to ride every bike the company made. Not only that, we had to learn about the competition so I rode those as well," Hejlik said.  
Dream job, indeed. His favorite? 
"The Softail, which I ended up owning, and the touring bikes. Those are very, very comfortable for long trips. They are designed to protect you in some nasty weather, too," he said recalling one memorable ride in a Milwaukee snowstorm.  
Hejlik put his knowledge and experience to work for Harley as a principal engineer advising his colleagues on product liability and how to communicate about function and design from the legal standpoint. He became the company's go-to-guy for investigating accidents and testifying on Harley's behalf in legal disputes.  
Laying the groundwork at Parks 
Hejlik said he used the product liability work he created as an Iowa State student as the foundation for his career. 
"I used my research paper all the time. I handed it out to all my young engineers," Hejlik said. "It focused on the impact of product liability on small manufacturing facilities and had many relatable concepts."  
It was in the stacks of Parks Library that Hejlik wrote his paper, A Products Liability Study, one weekend at a time, while working for Iowa Mold Tooling.  
"I spent every Saturday and Sunday in the stacks reviewing journals for three months," Hejlik said. "Every night I'd work on the paper from home, and every weekend, I'd return to Parks to work on the paper again." 
That's one of the reasons Hejlik became a donor to the University Library. He understands the importance of having a designated space to study and focus. He made a gift to fund a group study room in Parks Library this summer, as did his daughter Carrie Naber ('04 marketing) and her husband Steven ('02 civil engineering) as part of the Iowa State University Foundation Forever True campaign.  
"The library covers all facets of students… I knew a gift to the University Library would impact many students across all curriculums."
The group study room is part of the Collaboration Corridor, which opened in 2019. The $1.2 million project is part of a multi-phase plan to revitalize and re-envision Parks as a 21st century hub for student learning. The corridor includes seven new technology-equipped collaboration rooms and increased individual study spaces. Supported by a grant from the Roy J. Carver Charitable Trust of Muscatine, Iowa, and major gifts from Linda and Richard Soukup, Carrie and Steven Naber, and Lois and John Mather, along with hundreds of other alumni and friends, the project has one group study room remaining for a naming opportunity.   
"It's not unusual to find our co-lab spaces busy with students any time the library is open, day or night," said Hilary Seo, dean of library services. "Thanks to gifts like the Larry's we are able to better fulfill the needs of students, faculty and staff while providing an inspiring and welcoming space." 
Just around the bend 
Hejlik still owns, rides, and enjoys his light blue 2005 Softail FXST he purchased during his early days at Harley. He recently took a ride through Iowa State's campus this fall. He said he's enjoyed seeing the impact of his gift at Parks providing students a place to learn, collaborate, and study.  
"For people not yet actively giving, I'd encourage them to explore causes, do some research and find something that interests you, then just do it," Hejlik said with a smile.   
And, he's got just the place for you to conduct your research.   
Helping Iowa Staters Flourish
Gifts of cash, will bequests, and materials to the University Library help: 
advance student success 
grow our research collections 
optimize our spaces 
ignite strategic library-wide projects 
create opportunities for scholarship and research 
elevate staff and faculty professional development 
enhance innovative projects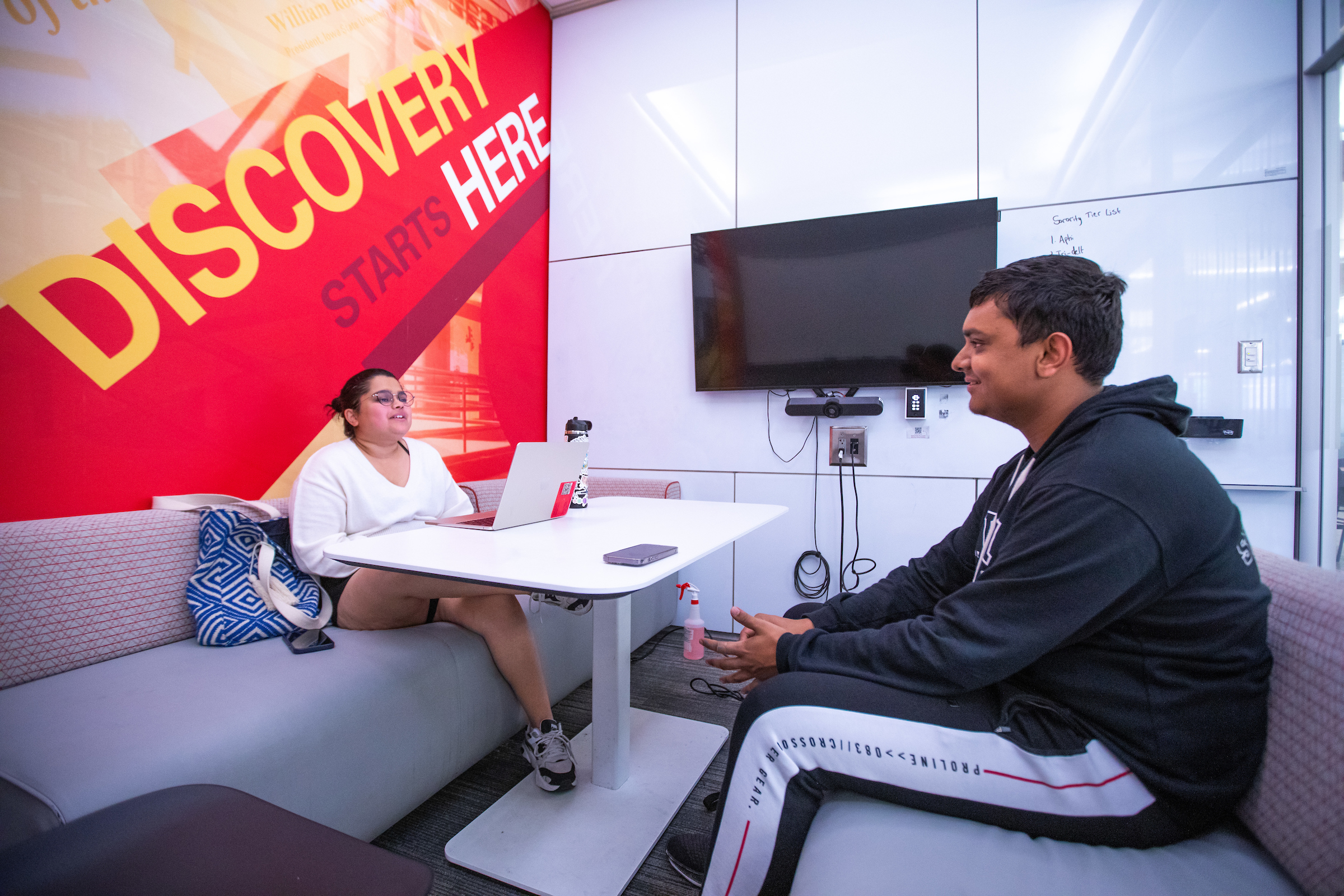 Opportunity knocks 
Join Larry and support a co-lab group study space in the Collaboration Corridor of Parks Library! There is one room available for a naming opportunity. For information on this and other ways to support the University Library contact Shelly Jordan, senior director of development, at sljordan@iastate.edu or (515) 620-2323.