Get free access to the New York Times and the Wall Street Journal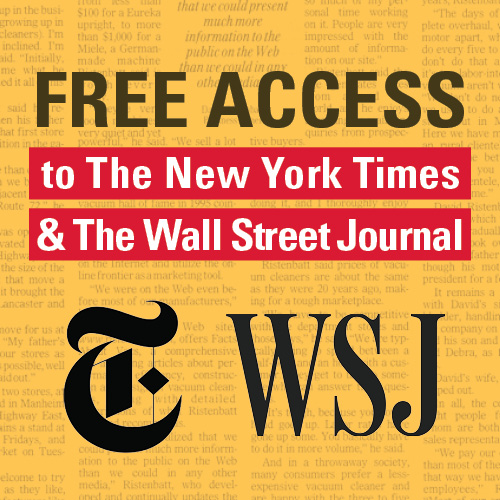 ISU students, faculty, and staff with Net-IDs have direct complimentary access to The New York Times and The Wall Street Journal.
Simply register a free account with the two publications and you will enjoy complete access to their suite of digital products through your device. Included in The Times is access to its deep archive that goes back to 1851. The Journal's archive going back to 1997 is also available. Additionally, The Journal provides tailored resources for students and faculty. In the Student Hub, learners can access curated content focused on job preparation, career insights, networking and finance tips. WSJ Context is an embedded tool enabling instructors to easily integrate content into their classrooms.
To register an account for The Times, follow the steps on How do I access New York Times full text? Steps for accessing The Journal can be found on this page. 
Additional newspapers and related resources can be found on the Finding Newspapers guide.
Visiting scholars/researchers who might not have a Net-ID may need to obtain a departmental sponsored ID to access these publications and other library resources.
For questions or suggestions, please contact the library.